Pediatric Intensive Care Unit (PICU)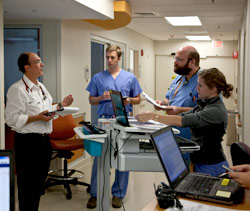 When children are injured severely or develop illnesses that render them unstable, they are cared for in our Pediatric Intensive Care Unit (PICU). A few relevant statistics:
Admissions: > 1,600 per year
Capture area: 1.2 million children in East Tennessee, North Mississippi, and West Arkansas
Mechanically ventilated patients: > 700 per year
The Critical Care service coordinates and participates in the care of every patient in our 20-bed mixed medical-surgical PICU.   We support a level 1 trauma program, as well as solid organ pediatric transplant programs in liver and kidney.  All patients on ECMO – including neonates – are cared for in the PICU (except those with congenital heart disease or primary heart failure).  Our Extracorporeal Support program – recognized as an ECMO Center of Excellence by the International Extracorporeal Life Support Organization (ELSO) – also supports renal replacement and apharesis therapies.
Providing Multi-Disciplinary Care
This is a source of pride for us. Every child's care plan is molded by input from Critical Care physicians, ICU nurses, respiratory therapists, intensive care pharmacists, an ICU nutritionist, a Child Life Specialist, and perhaps most importantly, the family. Physical, Occupational, and Speech Therapy services bolster recovery.
Every pediatric subspecialty is available for consultation in the PICU, including Cardiology, Pulmonology, Neurology, Nephrology, Infectious Disease, Gastroenterology, Hematology/Oncology, Endocrinology, Rheumatology, and Genetics. Surgical consulting services include General Surgery, Neurosurgery, ENT, Urology, Congenital Heart Surgery, Transplant, and Plastics.
Providing Family-Centered Care
Families are integral to children, and therefore, to how we care for them. Our rooms are designed to be spacious and comfortable, and our policies are meant to be accommodating. Parents are encouraged to join daily rounds. 24-hour Spiritual Care is available for families who may be struggling or request additional support. Palliative Care walks with children and families who are suffering from severely debilitating conditions or nearing the end-of-life. Among many things, social work coordinates resources and family assistance. The FedEx House provides a place of temporary residence for the families of children who are critically ill and live far from Memphis.
Training Future Pediatric Intensive Care Providers
As an academic division staffing one of nation's top 25 children's hospital, it is our responsibility to train future intensive care providers while meeting the highest and most current care standards. Critical Care Medicine has a long-standing fellowship program. However, our PICU is training ground for other programs as well. Fellows from Emergency Medicine and Surgical Critical Care rotate with us, as do residents from General Pediatrics and the College of Pharmacy. Fellowship programs from all of our medical and surgical subspecialties consult and learn in the PICU. Finally, we host students from our College of Medicine, as well as regional Physician Assistant and Nurse Practitioner programs.