Clinical and Research Facilities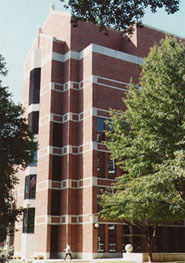 The Link Building
The Department of Neurology is located in the Link Building overlooking the Medical School's historic courtyard and Forrest Park. The facility joins two buildings, the Johnson and Wittenborg Buildings, that house state-of-the-art laboratories for Neurology, Neurosurgery, and Anatomy and Neurobiology. Together, this large complex forms the nucleus of the Neuroscience Institute, which brings together over 50 faculty members from various disciplines and which receives competitive funding for research in excess of $7,000,000 each year. The Medical School Library, conveniently located next door, includes among its many services internet access to major basic and clinical neuroscience journals, and a comprehensive selection of books and journals devoted to the clinical and basic neurosciences. The Center for Neurosciences thus affords outstanding research and educational opportunities for students, residents and fellows training in the neurological sciences.
The Department of Neurology, the Health Science Center and five of the University's affiliated hospitals are located within walking distance of each other. Baptist Memorial is located in East Memphis. This health complex comprises the major Medical Center serving the Mid-South, and draws from a state area 200 miles in radius containing approximately 2.5 million people. Clinical training in neurology takes place in these five hospitals within the Medical Center.
Methodist University Hospital
Methodist University Hospital is a modern, private 696-bed facility, and is the principal adult private teaching hospital for the University of Tennessee. It has PET and SPECT scanning available. Diagnostic electrophysiology facilities include a four-bed video EEG monitoring unit, two fully equipped sleep laboratories, and complete EMG and nerve conduction facilities. It has a Neurology teaching service with approximately 600 admissions per year.
Memphis VA Medical Center
The Memphis Veterans Administration (VA) Medical Center has approximately 300 admissions per year.
Regional One Health
Regional One Health (formerly The Med) has approximately 700 admissions to the neurology service per year.
Le Bonheur Children's Hospital
A Magnetoencephalograph was recently installed at the Le Bonheur Children's Hospital for clinical and research use in epilepsy and other neurological disorders.
St. Jude Children's Research Hospital
St. Jude Children's Research Hospital is primarily a research center to find cures for children with cancer and other catastrophic diseases. It draws patients from the MidSouth and from all over the world including approximately 10% of all pediatric brain tumors in North America.
All five hospitals house state-of-the-art neurological diagnostic facilities including MRI (multiple 1.5 Tesla and one 3 Tesla magnet) and CT scanners.
Baptist Memorial Hospital
Baptist is one of the leading hospitals in North America for the number of neurosurgical procedures performed. The Neuroscience departments at Baptist are nationally and internationally recognized for providing high quality and comprehensive neuroscience services to patients, families and the community. Central nervous system disorders including head and spinal cord injuries, epilepsy, strokes, tumors, aneurysms and multiple sclerosis are diagnosed and treated by multispecialty teams.
Contact Us
Andrei V. Alexandrov, M.D.
Chairman
Department of Neurology
Semmes-Murphey Professor
Department of Neurology
855 Monroe Ave, Suite 415
Memphis, Tennessee 38163
Phone: (901) 448-6199
Fax: (901) 448-7440