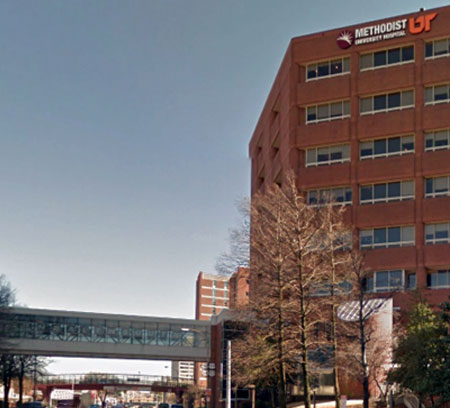 Methodist University Hospital
1265 Union Avenue
Memphis, TN 38104
(901) 516-7000

Methodist University Hospital (MUH) is a partnership of two healthcare leaders, Methodist Healthcare and the University of Tennessee Health Science Center (UTHSC). Located in the medical center and formerly known as Methodist Central, MUH is a 617-bed facility and the principal adult private teaching hospital for UTHSC. Methodist University Hospital provides real-world experiences of managing medical problems in an efficient and effective institution.
MUH and UTHSC bring together research, medicine, and innovation. This partnership supports multidisciplinary collaboration among doctors and clinical team members, leading to more advanced medical care for patients.
MUH is well known for its cardiac, neuroscience and transplant programs.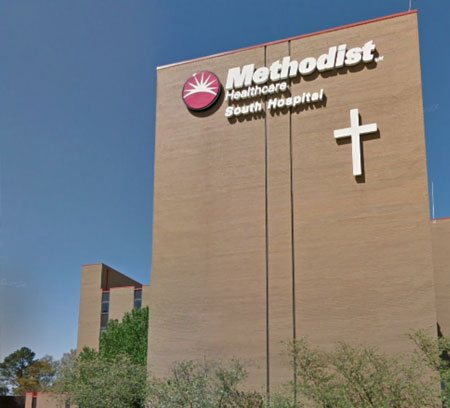 Methodist South Hospital
1300 Wesley Dr. 
Memphis, TN 38116
(901) 516-3700
For over 40 years, Methodist South Hospital has been providing services for the residents of Whitehaven and surrounding areas.  It's services includes a 24-hour emergency room, a certified chest pain center, women's services, a diagnosis center, and a comprehensive wound healing center.
Memphis VA Medical Center
1030 Jefferson Avenue
Memphis, TN 38104
(901) 523-8990

Founded in 1922, the Memphis VA Medical Center (VAMC) is affiliated with the University of Tennessee Health Science Center and is one of UTHSC's primary adult teaching hospitals.  It offers quality healthcare for the changing medical, surgical, and quality of life needs of the Mid-South men and women who so proudly served our nation.
For the 196,000 veterans from 53 counties in western Tennessee, northern Mississippi, and northwest Arkansas, the VAMC offers a variety of services for both physical and mental health needs.  New programs include those for traumatic brain injuries, post-traumatic stress disorder (PTSD), and suicide prevention.
VAMC is well known for its cardiovascular program.