News and Events
2015 MASS Symposium (Mentoring & Advising Students for  Success)
2014 Annual Mid-South Heart Walk
Saturday, November 1st
Annual Mid-South Heart Walk, Court Square Park (corner of North Main and North Court, Downtown Memphis) Activities - at 9:00 and the Walk - 10:30. Team BSA participated.
Megan Lowe, BSA Vice President, posing in photo and she is also crossing the finish line.

Left to right: Clarissa Anderson, Whitney McKinney, Jasmine Reedus, Marcy Pilate and Megan Lowe

Clarissa Anderson (College of Nursing) Team BSA

Roslyn Ratcliff and Joshua Bell
---
NSO [New Student Orientation] Week - Organizational Fair is held in August each year [date TBD]
Annually, during Orientation Week, the College of Medicine sponsors an organizational Fair to familiarize the incoming medical students of the options available. The BSA will have a booth set-up at the Fair, August [date and place is TBD], from 12:00 until 1:00 p.m.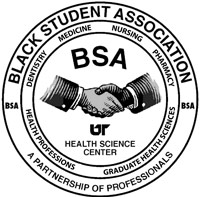 Contact Us
Black Student Association
BSA President:
Chelsea Butler
(314) 805-6979
For questions/information, please
contact:
Elise Moore
Special Events & Community Affairs
(901) 448-5618
Monthly Meetings
Last Thursday of each month
GEB Room A303
12:00 Noon
September 29, 2016
October 26, 2016
November 17, 2016