Black Student Association Banquet
The Black Student Association Banquet is held in the month of February each at the Student Alumni Center.  It is a celebration of BSA members' accomplishments throughout the school year. Tickets for the Banquet can be bought during the months of January and February (please contact Elise Moore for details – emoore@uthsc.edu).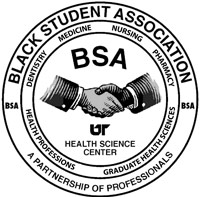 Contact Us
Black Student Association
BSA President:
TBA
For questions/information, please contact:
Elise Moore
UTHSC, Community Affairs
emoore@uthsc.edu
448-5618
Monthly Meetings
Every 1st Tuesday, GEB at 12:00 Noon.